Welcome To Highlands United Methodist Church
mailing address:
PO Box 1959  Highlands, NC  28741
315 Main Street, Highlands NC
(828) 526-3376
Please note:
Masks are optional while attending indoor gatherings at HUMC.
Face-coverings are available if you would like one.
Please continue to utilize hand-sanitizing stations, maintain appropriate distancing, refrain from attending if you're feeling sick, and continue to make the best decisions for the health of you
and your family.

In-Person Meals
We are glad to resume our practice of providing indoor meal fellowship opportunities. Please make you own best decisions regarding your participation in these gatherings,continuing to adhere to safety protocols of appropriate distancing, frequent hand-washing, and refraining from attending indoor gatherings if you are not feeling well. 
Wednesday Night Meal -
Join us at 5:15pm on Wednesdays in the Faith and Fellowship Center
for Wednesday Night Supper.
Wednesday night programming will resume in the coming weeks. 
JOY Group
Our JOY Group (Just Older Youth) meets for weekly lunch gatherings
each Thursday at 11:30am in the Faith and Fellowship Center.  
United Methodist Men's Group
Our next Methodist Men's Breakfast August 13th @ 8:30am will feature Steve Bruner who has recently founded the Beatitude Group, a non-profit ministry dedicated to mentoring disadvantaged young people between the ages of 17-25. He will share how the Beatitudes inspired him to start the ministry and how mentoring sets the Beatitude Group apart from other scholarship programs.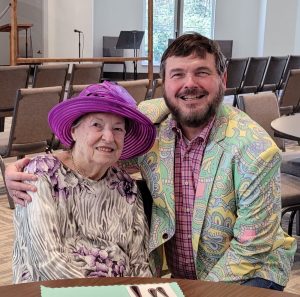 Sunday Morning Service Time

8:30 Summer Eucharist Service
9:09 Worship Service
11:00 Worship Service
In Person 9:09 and 11:0 Worship Services
8:30 Outdoor Service
Join us for worship on Sunday mornings
at 8:30 in the lower parking lot, 9:09 in the F&FC, and 11:00 in the sanctuary.
Current Studies and Small Groups
Sunday School Classes and other small groups continue to find creative ways to gather virtually during this season.  Being part of a small group is a very helpful way of staying connected to our church family.  If there is a group you'd be interested in joining, please reach out to the contact person.  Please click here to take a look at the current opportunities available.
Online giving is a convenient and secure way to offer our tithes and offerings to God. Thanks for partnering with us as we seek to love God and offer Christ to all.